Latest updates featuring Kimberly Gates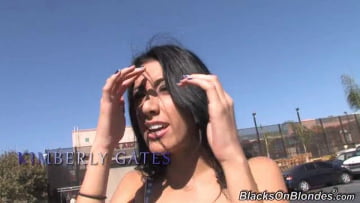 5th January
- Future Employee Of The Month, Kimberly Gates, has Flash Brown and Jon Jon in her sights. Being the super helpful employee that she is Kimberly inquire
s as to whether or not our two black meatslingers have been taken care of. You can see the thought balloons pop up over their heads as Kimberly's smile burns dirty images in their minds. The only way they can give their seal of approval for this establishment is if Kimberly comes back to their pad so her gullet and nether regions can get obliterated by big black cock. Kimberly finds herself at the mercy of over two feet of black meat and does her best to suck them both down. Kimberly is in interracial sex heaven as her tight body gets the attention she's been craving. Both of the thugs take turns making mincemeat out of her pink slit as it expands several times its normal diameter. Normally, her girly parts are reserved for white dicks which explains the ultra-tightness both guys feel. Her screams nearly get drowned out by the noises two sets of black balls make as they slap against her milky white skin. With one black dick in her mouth and one occupying her pussy, Kimberly takes interracial sex to a new, perverted level. Don't believe us? Take a look at the mess made on her face. There's a smile there somewhere underneath all that ghetto sauce.
...Read More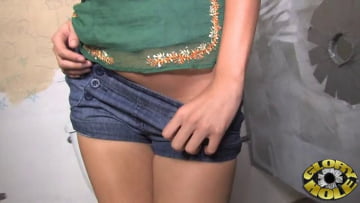 5th January
- Next on the gloryhole's menu is Kimberly Gates. She used to know better than sucking and fucking random men. Kimberly used to be a good girl that was
faithful to her loser boyfriend. However, her life changed the day she had to use the bathroom and only this public stall was available. The wheels in her head were turning the moment she walked in only to see that this place had been tagged up. The lack of clean facilities nearby forced Kimberly to this subhuman one. Kimberly's reading of the filthy slogans on the wall only turned her on which sees her losing every inch of clothing she came in with. Kimberly's flexibility shined through when she lifted her leg far enough so her fingers could make love to her pussy. Every passing second only made her fuckbox soaked from girly juices and the level of perversion gets turned up a notch when a black cock joins her party. Her jaw drops to the floor from sheer disbelief but Kimberly isn't going to waste this chance to participate in her first interracial sex rendezvous. Her open mouth sucked on his faceless black cock until the contents of her stomach nearly come back out the way they went in. Needing to give her mouth a rest Kimberly's drenched pussy was on deck for big black dick. Nothing could prepare Kimberly Gates for her first black cock simply because white boys have been stabbing her pussy with soft dicks for quite some time. Kimberly's flexible frame took a relentless pounding from the black man behind the wall and her tits kept shaking like never before. This afternoon's showing of interracial sex concludes when Kimberly's lunch comes in the form of ghetto white pudding.
...Read More