Latest updates featuring Kerry Louise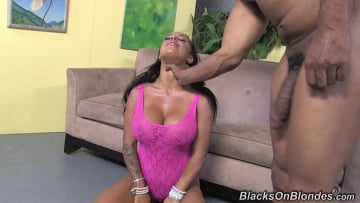 21st November
- Kerry Louise is retiring her pussy from cock on camera,and she's giving us her final curtain call. We booked Kerry Louise for her final boy/girl scene
with a surprise.......12 inches of the legendary Shane Diesel. Kerry's final scene is an interracial sexathon that renders her cunt useless for future cocks. Kerry didn't want no "love making" and the chains were taken off Shane to have carte blanche on Kerry Lousie's English body. Kerry did her best to deep throat that "nigger's dick" and she couldn't help but slobber all over Shane's abnormal black cock. Kerry managed to stroke that black Titanic with her feet as her pussy was minutes away from having an OUT OF ORDER sign placed on top of it. Shane got her completely ready for his black cock by jamming several fingers into that English whore's fuckbox. The foreplay lead into Kerry slowly lowering herself onto the biggest black cock in the business. The screams of joy coming from Dame Lousie's lungs nearly brought the walls down on set. Shane's nonstop plundering of her creamy pussy was met with sounds of his black nutsack slamming against her soaked clit.Kerry can barely see over her fat tits as Shane's "Big Ben" slowly glides into her white pussy until her eyes roll into the back of her head. It would be a waste if Kerry didn't allow Shane to tit fuck her as the spit from her mouth aided in the act. Kerry Louise's pussy had a death grip on Shane's cock, and her tits kept shaking from the black bomber's vaginal blitzkrieg of this English whore. Kerry Louise wanted Shane to blast on her tits but he decided on shooting his wad deep inside her. Kerry Louise played with the remaining black jizz pouring from the spout right before she boarded a plane back to merry ol' England. We can only imagine that she walked bow-legged through customs. Kerry Louise's last boy/girl and it's interracial sex? You're gonna love this one.
...Read More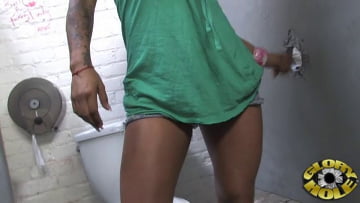 21st November
- The British are coming and it's to the gloryhole. Kerry Louise and her thunderous mammaries have flown over the pond for a taste of Americana. Kerry i
sn't one to shy away from anything and that includes the possibility of doing something out of ordinary. An internet search and rumor mill have informed Kerry of a public restroom where things aren't as normal as they appear. Kerry, always the curious one, had to check it out and what she found was that American's are dirty, filthy and extremely kinky. The tagged up walls and putrid stench tell Kerry that this place hasn't seen a mop since the Clinton years. However, she uses the chance to shed her clothing annd show off a body that was built for fucking. The mood quickly changes when an anonymous black cock pokes through the hole in the wall and Kerry Louise morphs into a super black cock slut. After inspecting the anonymous black cock, Kerry sucks on it and even slides it in between those amazing tits. The spit from her mouth glosses that black cock and slowly oozes onto the floor as she gags and chokes on black meat. Kerry lifts up that beautiful ass and continues to suck on the black equivalent of Big Ben until her aching pussy decides that its time to blitzed like London. Kerry backs that ass up onto the wall and each inch of anonymous black cock makes its way into Kerry's love box. The gigantic tits on this toned frame shake, rattle and roll as her love button gets violated by the luckiest black man on earth. Kerry Louise never gave interracial sex much of a thought but the buckling in her knees tells her she's been neglecting her kitty. Kerry continues to ride the wall until his balls detonate inside her pussy. Kerry's gonna have to be careful flying back to England with a black baby growing in her uterus.
...Read More