Latest updates featuring Jizzelle Ryder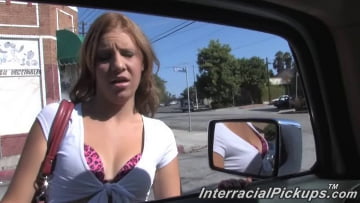 21st November
- I still can't understand the mentality of white guys. I was cruisin' in my hood and couldn't help but notice this sexy, stranded girl whose boyfriend
left her high and dry. We got to talking and she seemed interested in being part of my photography portfolio. It turns out that this white girl's name is Jizzelle Ryder and our pre-shoot interview told me a lot about her. Well, for one thing, Jizzelle has never had a black cock in her 18 years and she was extremely nervous to be on camera. I laid on some of my charm, which she couldn't resist and it wasn't too long before Jizzelle Ryder had my big, black cock in her mouth. I knew by looking at her lips that she had a mean head game! Nothing could get me ready for the blow job Jizzelle dished out while my camera caught it all. I could only imagine that her boyfriend was looking for Jizzelle Ryder at the exact moment she was lowering her little, white body onto my black cock. I spread her ass wide open and my black snake kept slithering deep inside her white fuck box. Jizzelle's inhibitions slowly disappeared as each minute passed by and each inch of black cock drilled its way deep in her white pussy.I just had to have her lick her pussy juice off my black pole and her eyes shined brighter than the red light on my HD camera. I kept slamming my black cock into Jizzelle Ryder's pussy because I wanted her first interracial sex experience to be that much more memorable. that pussy was so tight I had to hold back a few times from blasting too early and giving us black guys a bad name. After all, it's white boys who are known as "one pump chumps" and my big, black cock took its toll on Jizzelle Ryder for nearly an hour. As my tape ran down I unloaded my balls all over her face. Jizzelle's makeup was destroyed and she's gonna have a hell of a time explaining to her boyfriend why her pussy is now out of working order.
...Read More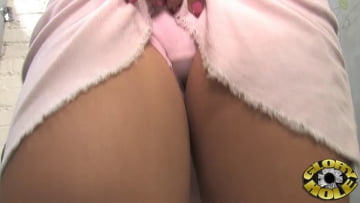 21st November
- The shy and quiet girl next door is secretly a black cock slut. Jizzelle Ryder has always kept to herself and her shyness is about to get shattered. J
izzelle has used the computer her father bought her in order to search for some evil stuff online. A recent search has postings of white girls who rant and rave about this public restroom where interracial sex is common. Jizzelle had to see for herself. The timid white girl made her way to the wrong side of the tracks and found herself in a bathroom that the cops no longer care to deal with. Jizzelle rested her soft, white ass on the toilet as she stripped away every article of clothing. The graffiti on the wall got her juices flowing to the point that her panties were soaked. Jizzelle knew she wasn't alone when she saw black feet poking into her stall, as well as a huge black cock. The look on her face was priceless as this dilemma made her choose: Be a good girl or do what it takes to milk that big, black cock. Jizzelle Ryder inspected the ballsy black stranger before inhaling as much of him possible. The once-timid white girl lost her manners as she sucked and smoked on that black pole until her jaw locked up. Jizzelle's white pussy was not to be denied the satisfaction of riding that black anaconda until it nearly fell off. Jizzelle Ryder was feeling the full affects of the glory hole as she balanced herself up so her pussy could get the complete black cock experience. Jizzelle's first black cock wasted no time in blasting her face with a load that he must have been fighting to withhold until it was time. Hopefully Jizzelle has some makeup in her bag or she's going to back out in public with some South Central sauce remaining on her angelic face.
...Read More