Latest updates featuring Jessica Grabbit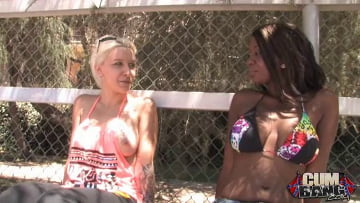 21st November
- Race relations are about to get a whole lot better thanks to Jessica Grabbit and her snow bunny pal. We've caught both ladies talking about the pros a
nd cons of white and black cocks. Jessica's friend, Stevie Shae, loves the dark meat while Jessica's love for white cocks knows no bounds. The friendship of these two cock-hungry sluts takes an interesting turn when Stevie informs Jessica of a secret club where black girls get a buffet of white meat. Jessica, not one to shy away from a challenge, accepts the offer and she's soon face to face with over 8 feet of white sausages. Stevie's there the whole way to show her support as her black friend slurps down on 8 of the most insane rednecks this side of Alabama. Stevie's constant coaching and cheerleading brings out the inner slut in Jessica Grabbit. Jessica's mouth is never void of a white cock in this interracial sex bedlam. Jessica's fat ebony jugs get bent over a trash can as it's open season on her black pussy. Those country boys slam their Confederate cocks right past her Mason Dixon slit as she screams and pleads for more. This ebony whore wouldn't be fulfilling her love for white cocks unless she allowed each one to shoot it's grits all over her face. Stevie Shae looked on as her friend slowly drowned in Southern sauce and she couldn't be happier for her friend.
...Read More
>> CLICK HERE TO DOWNLOAD <<
29th May
- in this weeks brown bunnies update we have with us a big and round and delicious bootay for all of you big ass fans!! lol i made this girl earn the co
ck literally walking up an hill and all lol and she did it with a smile on her face, complained a little bit shit as soon as she saw my boy she was in love..got all shy and shit lol but not for too long bcuz as soon as he put his pants down she went to WORK if you know what i mean!!...STAY TUNED!!!!!!!!!
...Read More