Latest updates featuring Jessica Bangkok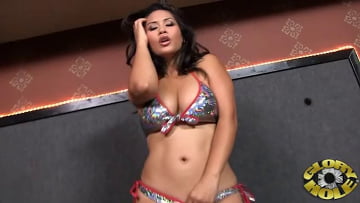 2nd October
- Jessica Bangkok has made the most money in every strip club she's shook her ass in. Men come from all over to empty their ATM accounts and children's
trust funds just for the chance to see Jessica Bangkok do some dirty dancing. The current recession hasn't affected Jessica's bottom line and today's set is about to get dark. Real dark. Ms. Bangkok shakes those awesome tits and her succulent ass right before something out of the ordinary happens. A couple of anonymous black cocks make their appearance and this shock to a veteran dancer can be seen all over her beautiful face. The course of action for Jessica is simple: rock the world of those two huge African hoses before anyone is the wiser. Jessica gets on her knees and sucks down those big black cocks with complete gusto. The fact that Jessica Bangkok is blowing two faceless black cocks DURING her shift is mind blowing. The fact that she's now letting them go RAW inside her pussy is beyond all comprehension. The awesome asian rides the carpeted wall and her vertical smile is getting completely demolished. With the next stripper's set ready to begin soon, Jessica Bangkok takes all that anonymous black seed until there's no more left to give.
...Read More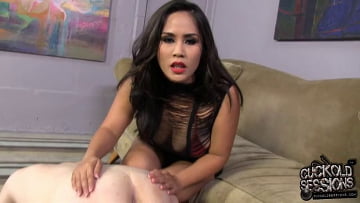 19th September
- The stereotype that Asians are pushovers is about to be completely demolished. Meet Jessica Bangkok. Jessica has great tits, a beautiful smile and a b
ody that was made to fuck big, black cock. However, it's her warped mind that sets her apart from other sexy sluts from the Orient. How so? Well, Jessica is given the task of destroying any shred of dignity that this cuckold has while playing with a huge black cock. The cuckold- complete with male chastity belt- knows his role is to be merely a spectator and comedic relief for both Jessica and the black bull in the room. Jessica Bangkok only halts her torture of the cuckold so that she can continue sucking on a cock that's easily ten times the size of the cuckold's. Actually, the black bull joins in on the verbal assault as he uses his big black cock to drill Jessica until her knees nearly give out. The cuckold's soul slowly fades away with every inch that disappears into Jessica's throbbing pussy. Those awesome Asian tits swing back and forth as her reproductive system nearly collapses....much like the cuckold's dignity. The only thing left is for Jessica to share that black spunk with the cuckold- kind of like a reward for being such a good, submissive white boy. Dinner is served.
...Read More