Latest updates featuring Jenna Brooks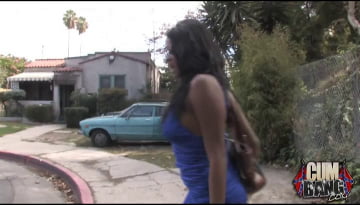 5th January
- The thing about Jenna Brooks is that she's beautiful, arrogant and ignorant. Her world comes crashing down in a matter of minutes when a meeting with
good old boy, Rod Fontana, reveals that her black boyfriend has been excavating white caves. Jenna's bitchy attitude goes up several notches as she learns the reason why her man's black cock has the smell of white girl pussy all over it. Instead of Jenna taking out ghetto justice on him, Rod offers her the chance to get even without the end result being that her boyfriend wind up being 6 feet under. Her ears perk up as she learns about the Cumbang where black holes go for white souls. Jenna's mesmerizing eyes meet 8 hung hillbilly's and her mouth hops on every Nascar fan in the room. This black bombshell's mouth takes the ultimate test when each white pecker slams against her tonsils as her lungs keep from collapsing in. The next step in her revenge is taken when Jenna's black clit gets a trailer park pounding. Each cracker glides his big white cock deep inside her black fuckpipe as Jenna's interracial sex romp winds down from sheer exhaustion. Nothing could stop Jenna from welcoming a torrential rain of white tartar sauce and her face signifies another successful black girl revenge.
...Read More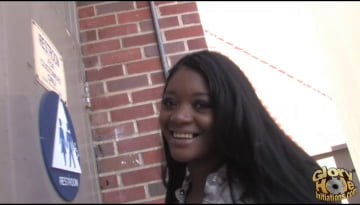 5th January
- What leads a black girl to get her first white dick? What makes her encounter her first white dick in public? How can she possibly justify to herself
that tangling with her first white dick in a disgusting bathroom is perfectly fine? We'd better sit back and watch as ebony sex pot, Jenna Brooks, goes on a quest for dirty things to happen to her. The fact that she's walking into a rumored glory hole means that she's willing to take what comes her way. What ends up her way is a white dick that finds its way in her mouth, past her esophagus, and into her windpipe. Jenna's through soon turn to some heavy duty interracial sex, even if that means doing it in a bathroom that has never seen disinfectant soap. The toilet serves a dual purpose in that Jenna uses it to keep herself high enough so that cracker cock tickles her uterus. The white dick spreading open her black lips brings Jenna to the point where her screams will inevitably draw attention from the outside. Every pump of his dick brings Jenna's ass bouncing off the graffiti-riddled wall. With her snatch getting sore Jenna drops to her knees and jerks white boy off until he splashes her with some country gravy. If interracial sex is what Jenna was seeking then she got what she wanted.
...Read More