Latest updates featuring Jasmine Webb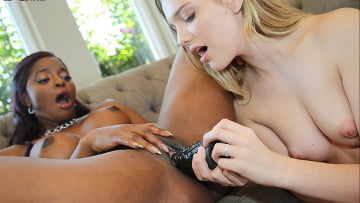 26th January
- It's so easy to meet people on the internet these days! Take Drew Barrymore look-a-like Kenna James and wanna-be pop star Jasmine Webb! Jasmine wants
to sing her songs to the world, so she's on her way to Hollywood! Kenna uses the internet to rent rooms in her house. Jasmine reaches out to Kenna, and that's that! Simple! And over the month or two since they first met online, Kenna and Jasmine have become close. They talk about all sorts of things: from Jasmine's love of hung black men to Kenna's frustrations with her husband. Watch what happens when they meet face-to-face for the first time! It doesn't take long for pervy Jasmine to pull out a big, black dildo. Why? Let's call it Kenna's "training". In addition to fucking Kenna, Jasmine's going to need a clubbing pal, and Kenna's going to be Jasmine's "bait" for BBC. But first, Jasmine needs to train Kenna, and you're going to be surprised to see Kenna James is a fast learner!
...Read More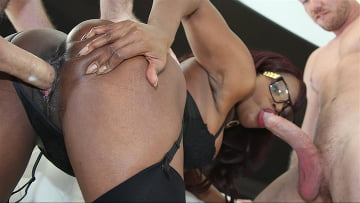 2nd January
- Jasmine Webb is distraught. Why? She's just spent more of Hubby's money, and when he discovered this, the shit hit the fan. What's more tired than tha
t cliche? He left in a storm and jumped a flight to Vegas, where he'll vent his frustrations on the Black Jack table and at various strip joints. And wouldn't ya have guessed? Not thirty minutes after he stormed out, the furniture arrived! To Jasmine's delight, the delivery boys are white -- and cute! Watch Jasmine violate all her marital vows as both white boys take turns using her wet mouth and beautiful ebony cunt in order to satisfy their needs.
...Read More