Latest updates featuring Ivy Winters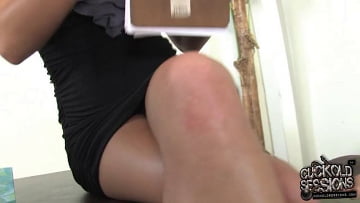 21st November
- Being a cuckold isn't a part time deal; it's a lifestyle for this older submissive gentleman. There's nothing this subhuman won't do for his wife and
Dr. Ivy Winters is trying to get inside his head. The male chastity belt and his willingness to watch his wife fuck other guys is enough to make Ivy drool at the possibilities. Ivy smothers him with her covered pussy before Jon Jon enters the picture. The submissive cuckold is at Ivy's mercy as she sits on him while her mouth becomes a warm residency for big, black cock. Ivy's lips lock with the pathetic cuckold barely a second after she had a massive black cock slithering down her throat. Enough isn't enough as Jon Jon fucks that tight white pussy as "needle dick" watches with a look of envy wiped across his face. His humiliation only begins with him wearing her bra and forced to suck on her heels. Ivy's uterus continues to get punched by Jon Jon's ginormous black cock as she continues to ridicule the cuckold for having a cock that a mouse would laugh at. The interracial sex going on during office hours isn't normal but neither is the black anaconda that Ivy's riding until her pussy falls out. This session of complete debauchery sees Ivy getting her pussy stretched wider than her college degree. The cuckold's dinner bell rings when Jon Jon unloads his ball snot all over Ivy's beaten pussy. The middle-aged and insane cuckold does his duty by cleaning up with his taste buds covered in ghetto slime.
...Read More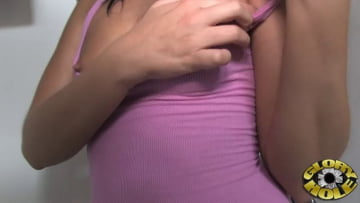 21st November
- There's something about an innocent slut with interracial porn in her tiny, white hands. Ivy Winters has the best interracial porn in her grasp while
inside the adult arcade. The clerk in front nearly blew a load in his pants the second Ivy's cute ass walked inside. The rented viewing booth stills has dried up remnants of previous occupants, and Ivy's soon going to find out that they're not food stains. Ivy's attention soon turns to the interracial porn playing behind her and that's all the incentive she needs to get naked and finger her love box. Apparently Ivy's not alone and a black stranger's hands soon feel up every inch of her tiny body courtesy of the glory hole. Ivy's isn't interested in the faceless black guy just copping a feel. Ivy Winters wants to wrap her lips around that big, black cock until it turns red from her lipstick. Ivy sucks on that massive black shaft and even fits his balls into her mouth. Luckily the front clerk is on his lunch break so Ivy has enough time to slide that black meat deep inside her. That dark, black hair gets pulled by the anonymous black guy's hands as she backs up on his mighty member. Ivy lets him go raw since this once-in-a-lifetime opportunity is one that she doesn't want to ruin with sheepskin. Ivy's ass slams against the wall until it's time for her to get a face full of black venom. Looking down, Ivy realizes that the other stains on the floors are from black cock whores of the past. Ivy now joins their ranks and only spreads for black dick.
...Read More