Latest updates featuring Imani Rose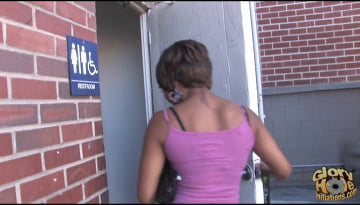 21st November
- A Rose by any other name wouldn't be as big a whore as Imani. The clear blue sky has given Imani Rose an open invite to prowl for her first white dick
. The double edge word that is the Internet has informed Imani that this gas station restroom has constant shenanigans going on. The inner whore of Imani told her the rumors were too good to pass up so she made her way with white cock dancing around in her demented head. The stained walls were all the visual aid that Imani needed to rip off her shirt so that her bra-busting tits could get some air. That ass? Oh you better believe that ass came out to play and Imani's afternoon of debauchery was about to kick off. The orgasms she gave herself nearly alerted nearby authorities but safety wasn't anywhere in today's equation. The white cock finally made its appearance and Imani Rose' lips were soon vacuuming every inch available. None of the nearby filth deterred Imani from scarfing down on her first white dick as if it was Thanksgiving dinner. Imani took it up a level by letting the anonymous white boy go raw on her pussy until it nearly fell off. Imani's ride of the glory hole wall only ended when her knees got weak from a nonstop assault on her black snatch. The only way for Imani to thank her anonymous friend was to suck his white seed directly from the tap.
...Read More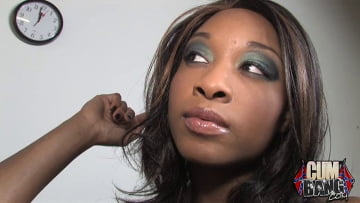 27th February
- The errors of the black man's ways nearly got fatal. Imani's deep desire to get revenge on the brotha that cheated on her with a white girl got to a b
oiling point. She went to Private Detectivve, Rod Fontana, in hope of having her cheating black boyfriend limping around with 2 broken knees. She even hit home the fact that she'd like him pushing up daisies but our fellow Cumbanger had a better idea. Instead of risking major jailtime it would be in her best interest to fuck around with nearly a dozen peckerwoods . Her smile was as wide as the line to get corn bread in "the hood" and we were soon off to the races. Once we got a gljmpse of her in that trashy lingerie we knew that we'd have an interracial black slut who would chow down on almost 12 feet of cracker cock. We went down the line breathing entirely through her nose as her throat was getting stuffed. She then bent over and we busted a train on that tight black slit as one-by-one she took every white dick up her uterus. Her entire head became white once we all drained our balls and the girl couldn't be happier. Actually, I'm sure there's a black girl underneath all that jizz.
...Read More