Latest updates featuring Cherry Torn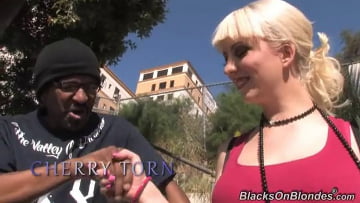 21st November
- Cherry Torn has made the leap from S&M-type shoots to hardcore interracial porn. What better way for her to make an impact than to have Shane Diesel a
nd Jack Napier break her in. Cherry Torn may have bitten off more than she can chew. After all, we have only the biggest black cocks in our stable and they all do their damage. Cherry, up for the task, brings Shane and Jack to a comfortable spot so she can show them how big of a black cock slut she intends to be. the first thing on Cherry's agenda is to suck down as much black salami as her gag reflex will allow. No amount of rinky-dink bondage work could prepare her esophagus for the black torpedoes taking turns inside her wind pipe. That white fuck box was up for the taking so Jack and Shane took turns making the circumference of her fuck hole wider and wider. You can see her stomach expanding as each gigantic black cock slams its way into her uterus and nearly into her lungs. Cherry Torn nearly dehydrates from the sweat running off her body and saliva coating each black cock. The sounds of balls slamming against her clit are matched in decibel level by the gagging and choking she endures on a big, black cock. the only thing left to do in this black cock initiation would be for Cherry to milk both black dicks. Cherry tugs, sucks and pulls on each over sized black cock until her face looks as if it was dunked into a bowl of milk.
...Read More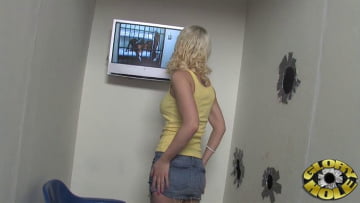 21st November
- Cherry Torn, a punk rocker/super whore, must have mistaken this adult arcade for an independent record store. The last thing on her mind is screwing a
round with the chance of getting caught. Cherry Torn's long, blonde hair nearly reaches her perky tits, which, as of late, have yet to be groped in a manner fitting this young slut. Cherry's pupils take in moving pictures of interracial porn and it signals her to shove a few fingers in her tight fuckbox. Things take an interesting turn when 2 huge cocks, one black and one white, slide through the glory hole and are at Cherry's mercy. With little hesitation, Cherry drops to her knees and sucks on both peckers until they seem stricken with rigor mortis. The newest addition to the gloryhole roster uses her blow job skills to her advantage before sliding her body down on both huge cocks. Cherry's multitasking is as clear as day when her pussy milks one cock as her free hand pumps off another. The two strangers behind the wall don't hold back a drop of their jizz as Cherry Torn nearly suffers whiplash from a wave of creamy goodness.
...Read More