Latest updates featuring Bridgette B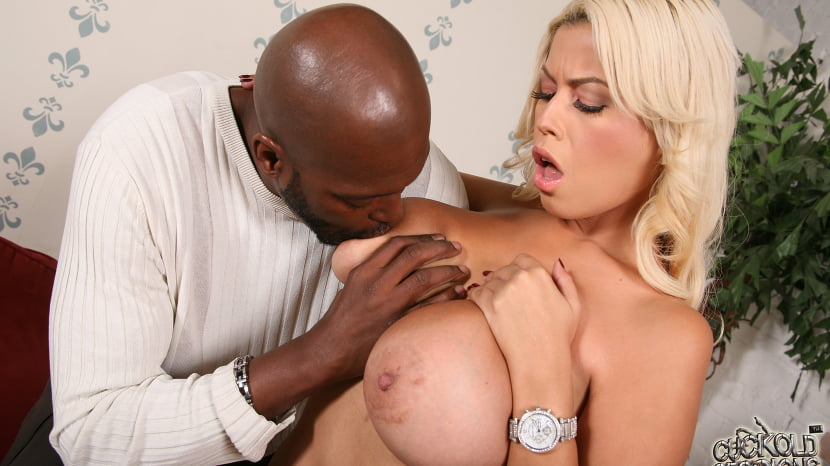 I'm Bridgette B. and I demand that you watch as a real man fucks me. You, however, get to sit back and watch as your queen/mistress/goddess plays with a huge black cock that easily dwarfs your little white one. I want you to wear this male chastity device and better not hear any bitching or moaning from you. In fact, I'm going to be moaning while I worship Lexington Steele's big black cock. That huge piece of black meat is gonna fuck my mouth while you pray that I give you a sympathy blow....I won't. Grab your little cock and jerk off while Lex treats my pussy to every inch he carries between his legs. that big black cock found my sweet spot-you know, that place you could never, ever find- and Lex continued to cram my fuck box. Every thrust of his big black cock brings me closer to an orgasm that you, nor your money, could ever bring me. Now, I demand that you clean the creamy mess that big black cock left on me. Get your bib, faggot boy!
Bridgette B doesn't beat around the bush; she wants her pussy and ass filled with big black cock. Bridgette's no stranger to our site and, of course, she's become jealous of the other sluts on this site that have been lucky enough to get some interracial fucking introduced to them. Bridgette B. wants to join those ranks and Prince Yashua's huge black cock is the key to that. Bridgette and Prince get things going by having her play with his massive black cock. The busty latina tests her gag reflexes by sucking down on his black monster as her huge tits get palmed like a basketball. The "Spanish Doll" gets her pussy stuffed to capacity courtesy of Prince and her tits nearly suffocate him in the process. The road to interracial supremacy lies in Bridgette B.'s ability to take Prince's big black cock in her third imput. The lusty Latina clenches her teeth as her ass is slowly opened via black dick. Prince keeps ramming his chocolate stick into that beautiful ass until it's time for her to be on the receiving end of his testicular explosion. We know for certain that Bridgette B.'s update will be talked about for years to come.
It's time for the white girls to step aside and let a busty Latina try her hands, mouth and pussy at the strip club. Bridgette B. has tits that, just by themselves, have paid for this month's mortgage several times over. That ass? That flawless booty has caused more than it's share of drivers to get into car wrecks. Bridgette B. is shaking her "money maker" when two anonymous black cocks try their luck via the holes in the wall. Bridgette, not to be outdone by her white counterparts, gets down and dirty by sucking on both thug cocks. Bridgette finger fucks herself as her mouth goes into double overtime by sucking on some anonymous black dongs. The hot Latina tests her whore abilities by spreading that pink taco for black cock insertion. This beautiful and busty Latina forgets that she's on the club's clock and fucks the wall until that faceless black cock does its damage. Bridgette B. doesn't leave until both black cocks empty their goo all over her face.