Latest updates featuring Anita Peida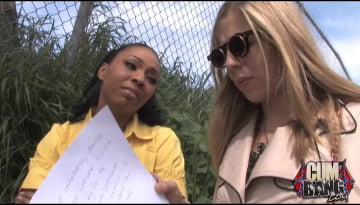 21st November
- Anita Peida knows nothing about honoring her mother and father. Born to parents of high class and mass wealth, Anita's shame to the family name comes
via sucking and fucking every white boy she comes across. Her parents, not to be embarrassed, write her out of the Estate thus costing her boat loads of cash. Anita confides in her bff, Chastity Lynn, and the idea of revenge is as clear as the white cocks that will later devastate her body. Anita lost her conservative attire for clothing that would make the jaws of veteran street walkers drop to the floor. The best way to get back at her folks would be to snack on nearly a dozen of the filthiest, most vile crackers this side of Anaheim. much like a line at a monster truck rally, the Cumbangers were ready to slam their sausages into the back of Anita's head until her makeup ran off. Chastity was Anita's personal cheerleader as each white guy lined up for a chance to fit their meat deep inside her fuck box. In fact, it looked as if the 1976 Celtics were taking liberties with their head cheerleader and the black beauty was loving nearly 9 feet of white kielbasa. The time for ending her parent's misery arrived when Anita's face took blast after blast of ball grit and dick snot. Needless to say, her pain was alleviated ten fold.
...Read More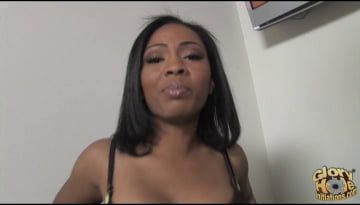 21st November
- It's often said that you gotta try everything at least once. However, it's doubtful that it meant for black women to taste their very first white cock
courtesy of the glory hole. Anita Peida comes to us via Las Vegas and wants to break her taste bud's white cock cherry. Anita used her smart phone to locate this glory hole and she soon found herself rubbing one out to a Cumbang. Anita was rubbing her kitty raw until her rented booth became a party for 2. This black sex fiend wasted no time in slobbing the knob of a very gutsy white boy as her pussy got wetter with each face pump. Anita left her mark in the glory hole by sliding her slender body onto a cock whose sexual past is only known to the nameless man behind the wall. Interracial sex is normally confined to hotel rooms or parking lots; never a glory hole. Anita Peida can now change her name to "Anita White Cock 24/7" judging by the manner she fucked that wall. Don't believe us? That white goo didn't pop on her face without her help.
...Read More
>> CLICK HERE TO DOWNLOAD <<
30th January
- Anita Peida is a sexy Brown Bunny that's ready for a good fucking. Our young stud of the year, Seth Gamble will fuck at a drop of a hat. Anita Peida i
s blessed in all departments of that body. From a juicy thick ass, nice natural tits and a nice tasteful pussy. Seth sure has his way. Beating that chocolate pussy until busting a huge load. Enjoy!
...Read More