Latest updates featuring Amy Brooke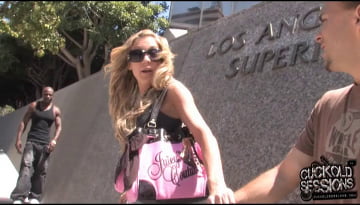 5th January
- If you want a steak then you go to a restaurant. If you want big black meat then you go to the courthouse because it's a great place to find black thu
gs with hanging meat. My boyfriend's poor excuse for a dick couldn't satisfy a mouse so he had the job of bringing a mighty black bull to our house so mommy could finally orgasm. He was reluctant but that's no shock since he's the biggest bitch I've ever known but he redeemed himself when he brought me Wesley Snipes along with his fat black dick. We got back home and I made my man wear a chasity belt because I wanted to know he wouldn't enjoy a second of this. After some belittling I dived right in and sucked that black dick with such intensity that I got a headache but it was all worth it. That meaty black dick had my pussy and ass in its sights and I was the happeiest black cock slut around. I made bitch boy spread me open so Wes could have easier access to my once-tight holes. I knew he was good for something. My new black fucktoy went balls deep on me as the screams I made ruptured bitch boy's eardrums. Today's party wouldn't be complete until gallons of black jizz blasted all over my ass and that little homo was there to clean me all up.
...Read More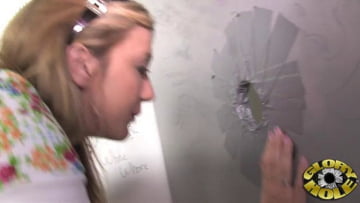 9th September
- Some girls need a bed with fancy sheets if they're going to fuck. Some need to be wined and dined before they spread their legs open. Amy Brooke's a s
imple girl but far from simple looking. Her blonde hair covers a head that's seconds away from bobbing back and forth on a wall that has a black cock growing from it. Amy Brooke left her common sense in the gas station snack shop when she decided to use its bathroom for dirty deeds. Once inside she slid her soaking wet panties off which was followed by her over the shoulder boulder holder. The initial glimpse of the black cock signaled Amy to get down to business and suck it off. Amy's arms got a workout from the combined action of sucking and jerking but that's not where it all ends. Amy's creamy slit gets rammed over and over again by a black cock that could belong to anyone in this hazardous city. The hinges nearly fall off as the anonymous black man thrusts his pelvis into the pussy of a white girl he may never come in contact with ever again. We only know that his sticky load gave Amy's teeth a nice polishing.
...Read More