Latest updates featuring Amber Lynn Bach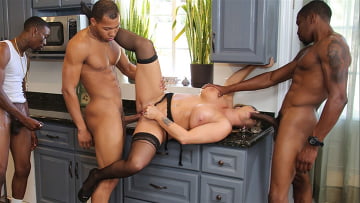 16th April
- I dunno about you, but most landlords are a bitch. Most of the time figuratively, and in the case of Amber Lynn Back, quite literally. She's come over
to our crews' house to get the rent. In addition, Amber wants to know about all the parties and gambling and "sex noises" that are coming from the house. The neighbors are tired of our crew, and they've called Amber to take care of the issues. Did I mention Amber's husband is the guy who owns the house? Or that he's out of town on business? Or that he hasn't properly fucked Amber in years? So Amber cuts a deal with the crew -- BBC and when Hubby gets home, she'll tell him things are fine. Hell, Amber will even let them slide a few more days on the rent! All she needs in return is some of that good, old-fashioned BBC she's heard so much about!
...Read More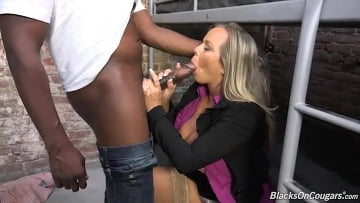 3rd June
- Correctional Officer Amber Lynn Bach is one tough bitch. She's been C.O. for twenty-something years, and she's seen her share of African-American male
s come and go from her holding tanks. She's always been secretly turned on by the young bulls she oversees during their lock down, but today she's taking it to the next level. Amber's been having lights-off, missionary sex so long she can't even remember the last time she was even remotely turned on bu Hubby. The thought of "BBC" has driven her to the point of sequestering inmate Johnson in a lone cell, far off from the general population. CO Bach knows her prisoner is in on a trumped-up charge, and that doesn't stop her from toying with the young man until she has her way with him. Amber Lynn is in for a very big surprise, too: 11 inches of black meat! So long sex with hubby! Hello Amber Lynn Bach -- black cock lovin' correctional officer!!
...Read More