Latest Updates from Dogfart (Page 98)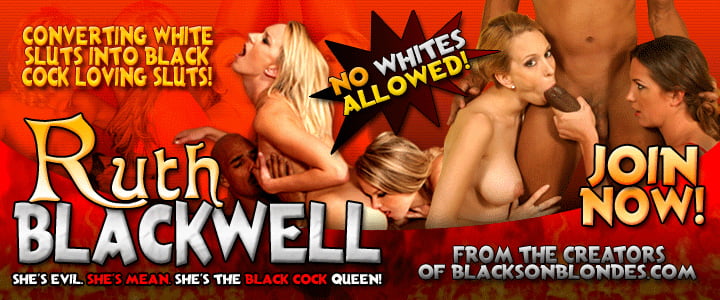 Katt Dylan comes to us from a part of the country where good girls go bad. We'd spend our time trying to figure out Katt Dylan's mental state but we won't. What makes a girl do something so perverted and insane that she's risking alienation from her family and/or religious affiliation? Who knows? Who cares? All we know is that Katt Dylan entered the public restroom and left two anonymous white boys with a smile on their faces(we're assuming). We could also talk about the earth shattering blowjobs she gave each guy but the video speaks for itself. We could talk about the way she bent over and let two anonymous peckerwoods go raw, yes, we said RAW, on her tiny pussy. Again, watch for yourself and you'll see a little slut in her natural habitat. Katt Dylan left the public restroom wihout washing her hands - and judging by what went on inside- it should be no shock that safety isn't a top priority for her.
We know what you're thinking: Valerie Kay isn't blonde, but have have you seen that ass? Have you seen how much Valerie Kay loves big, black cock? Sit back, relax , and watch as Valerie Kay walks the mean streets of Los Angeles in her quest to meet Rico Strong. Valerie is adamant about getting onto the site that launched a thousand imitators,BlacksonBlondes.com. Rico's eyes quickly focus in on Valerie's Cuban ass and her initiation into Interracial Porn is about to begin. Valerie's slutty attire gets exchanged for something equally whore-like and the fun really begins. Valerie gets felt up by Rico's strong hands right before she drops to her knees. Valerie's beautiful booty shakes, jiggles and quakes as she gives a vicious blowjob that nearly drains the black off Rico's skin. Part 1 was complete of this initiation, part 2 is where Valerie's ability to take a black cock really comes into play. Valerie Kay gets her onion booty spread wide and her pussy slowly welcomes in Rico's black python. The sounds of Valerie Kay's thighs slamming into Rico's surely must still be heard in those walls. Valerie Kay's wet slit nearly gets ripped apart by a huge black cock and she's grinding on his junk as if it's going out of business. Rico continues to take charge by fucking that Cuban's cunt from behind as he continues to show absolutely no mercy. The blondes were given this week off in order to recuperate from our assaults on their holes. However, Valerie Kay ran with the balland cemented her place in Interracial Porn History with a huge blast to the face of Compton Cool Whip.
Very few, if any, have the dilemma that faces Jack Napier on a daily basis: Women only want him for the third leg he keeps in his pants. Lily Carter is counseling the black swordsmen and she risks losing her license for a taste of what's been ruining white vaginas for years. Lily is another notch on Jack's belt and she's more than happy to risk breaking patient-doctor confidentiality. Lily gets on her knees and attempts to suck on every inch of Jack's massive link. Mr. Napier doesn;t seem to mind if his session getting billed- he just wants a crack at that college educated pussy. Lily Carter's secret fascination with interracial sex gets lived out the second her vaginal walls massage Jack Napier's gigantic black dong. Lily's glasses fog us as that smooth pussy gets drilled as if her pussy is able to squirt gold. This bookworm by day/black cock slut by night gets slammed, oked and prodded by Jack's huge black cock until he shoots a prescription-ordered load of black nutmeg right inside her fuck box. Lily Carter better clean up her office before she sees her next patient.