Latest Updates from Dogfart (Page 91)


Behind those glasses is a black whore that's about to do the unthinkable: suck and fuck an anonymous white cock in , of all places, a gloryhole/adult bookstore. Monique's beautiful black tits come out to play as she watches another black slut devour multiple white boys. The filthy images dancing around on that screen is all Monique needs to initiate some hardcore self-pleasuring. Monique Symone finds that she's not alone and an anonymous white pecker joins her viewing party. Monique, not to be outdone by the whore on the television, hits the floor and sucks down as much of that faceless white boy as her gullet can handle. Monique's glasses fog up as her face continues to give some white dude the blowjob of his life. The busty black beauty gives the lower half of her body a workout by sliding that white cock deep inside her fuckpie. That black snatch creams all over that big white cock as her tits shake and bounce in the way they were intended. Monique Symone does her whorely duty by not wasting any drop of cum-filled goodness that the anonymous white boy has to offer. The only problem is facing Monique Symone is how she's going to leave this booth with all that residue all over her face.
This mother and daughter field trip is an unusual one.Penny Pax is trying to bait her mother, Sindy Lange, into adding some spice to her life. Sindy is about to show her daughter that she's no stick-in-the-mud and Penny's going to have a hell of a tale to tell her kids one day. Sindy goes to the extreme by taking her daughter with her to an adult arcade. Penny and Sindy are at a loss for words when a huge black cocks comes through the gloryhole. The next course of action? Both mother and daughter takes turns , and, much like a feeding frenzy, fight over that huge black cock while Mr. Lange is at work without the slightest clue as to what his angels are doing. The black guy behind the wall gets an invitation to come into the booth and it's all she wrote for both ladies' reproductive systems. Penny is first in line ( of course, forgetting her manners) and rides that thugs big black cock as her mother rubs one out. Mommy knows best that this is her chance to completely prove to her daughter that she's not the prim and proper housewife everyone believes. Sindy Lange steps up to the plate and the same cock that ravaged her daughter is now demolishing her pussy. Penny Pax gets a helping hand from mom as Sindy jerks the contents of that stranger's black cock into her mouth. You can call it a "bonding experience." We call it two black cock sluts sowing their wild oats.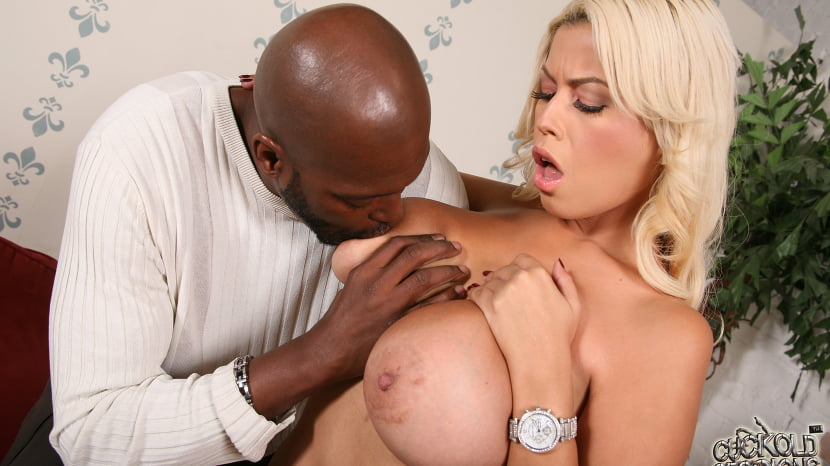 I'm Bridgette B. and I demand that you watch as a real man fucks me. You, however, get to sit back and watch as your queen/mistress/goddess plays with a huge black cock that easily dwarfs your little white one. I want you to wear this male chastity device and better not hear any bitching or moaning from you. In fact, I'm going to be moaning while I worship Lexington Steele's big black cock. That huge piece of black meat is gonna fuck my mouth while you pray that I give you a sympathy blow....I won't. Grab your little cock and jerk off while Lex treats my pussy to every inch he carries between his legs. that big black cock found my sweet spot-you know, that place you could never, ever find- and Lex continued to cram my fuck box. Every thrust of his big black cock brings me closer to an orgasm that you, nor your money, could ever bring me. Now, I demand that you clean the creamy mess that big black cock left on me. Get your bib, faggot boy!