Latest Updates from Dogfart (Page 91)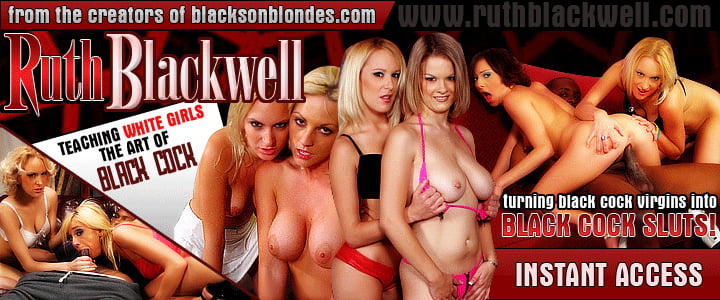 The blazing sun has no affect on Rico Strong's and Lee Bangg's ability to pick up white girls. Natasha Starr is looking for a bus and her cell phone is dead. Natasha Starr's double whammy soon turns into a double-dicking courtesy of some American big black cocks. Natasha Starr loses her innocence when she tells both guys that she has something clogging up her Polish booty. Rico and Lee nearly lose their minds when she bends over and shows them that, she um, wasn't shitting them. Natasha's search for a bus is temporarily halted when two black freight trains take turns jabbing her throat. Natasha Starr gets blitzkrieged by both huge black cocks and this interracial threesome melts gets underway. Natasha Starr works on one huge cock while the other invades her pussy until it nearly collapses from the onslaught. The princess from Poland takes it up a notch by having her ass and pussy slammed at the same time. The make-up slowly begins to melt and the outside sun's affects have nothing on what Rico and Lee are doing to this lost foreign whore. The constant friction from both gigantic black cocks bring Natasha to her knees in order to pray for a couple of huge loads of black gravy. Rico and Lee leave no part of Natasha Starr's face void of black nutsauce, and Natasha's phone is fully charged again. Natasha won't be able to call a cab because they no longer come to this part of the "hood".
Next time your girlfriend goes out make sure to look her directly in the eyes. There's a great chance that the love of your life is lying to you AND is seeking some meat that's several shades darker (and bigger) than yours. Phoenix Askani is one such slut and her afternoon is about to be something that she's going to have to hide from her family. Phoenix is about to drain her bladder when an anonymous black cock joins the picture, and, this punk rock chick, turns an odd situation into a vile and filthy one. Phoenix catches her breath and sucks on that stranger's huge black cock until the enamel nearly comes off. This gloryhole becomes the location for a white girl's official entry into the world of interracial sex and her puffy cheeks display that. Phoenix continues to suck that anonymous black cock until she decides it's time for her ass to have some fun. Phoenix lifts up her tiny skirt and slowly slides down that huge firehouse pole until her eyes roll around in the back of her head. The anal slamming that Phoenix receives makes her forget all about the loser she has waiting at home for her. The guy sitting on the couch with his finger up his ass has no idea that his woman's ass is now property of some faceless black guy on the wrong side of the city. Phoenix Askani can't take anymore and she more than welcomes a cannon blast of ghetto goo all over her face and brightly colored hair.
Jessica Bangkok has made the most money in every strip club she's shook her ass in. Men come from all over to empty their ATM accounts and children's trust funds just for the chance to see Jessica Bangkok do some dirty dancing. The current recession hasn't affected Jessica's bottom line and today's set is about to get dark. Real dark. Ms. Bangkok shakes those awesome tits and her succulent ass right before something out of the ordinary happens. A couple of anonymous black cocks make their appearance and this shock to a veteran dancer can be seen all over her beautiful face. The course of action for Jessica is simple: rock the world of those two huge African hoses before anyone is the wiser. Jessica gets on her knees and sucks down those big black cocks with complete gusto. The fact that Jessica Bangkok is blowing two faceless black cocks DURING her shift is mind blowing. The fact that she's now letting them go RAW inside her pussy is beyond all comprehension. The awesome asian rides the carpeted wall and her vertical smile is getting completely demolished. With the next stripper's set ready to begin soon, Jessica Bangkok takes all that anonymous black seed until there's no more left to give.