Latest Updates from Dogfart (Page 88)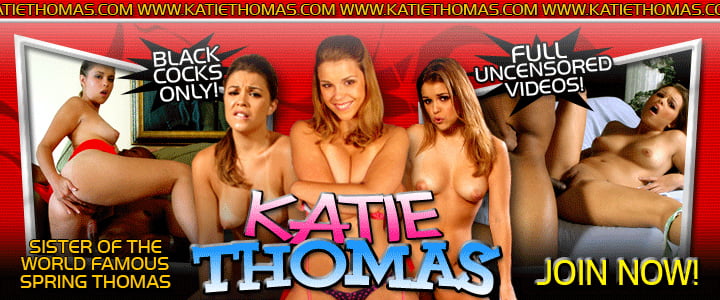 The awful economy's stranglehold knows no color barrier. Casey Calvert and her boyfriend are applying for a loan at their local bank. Bad credit? Problem. Unemployed? Keith certainly is and banker Charlie Mac knows a loan risk when he sees one. Keith's desperate, so he's about to go the route of a desperate guy: offer up his girlfriend, Casey Calvert,as incentive. Casey's initially hesitant and deeply mad that her boyfriend would stoop so low. However, Casey knows that the comic book store has to be a reality for her dude. Casey loses her inhibition the minute she gets a look at what the black banker is packing in his slacks. Keith looks on as the love of his life proves her loyalty to him by sucking on a big black cock. Casey's love for big,black cock begins to evolve as each inch of Charlie slides down her throat. Keith can just imagine his new store while Casey bends over and gets fucked by Charlie's big slab of black meat. The ass on Casey Calvert- much like the bank's vault- opens wide and gets put to the test. Casey, in between getting fucked, mocks her boyfriend's small cock and proceeds to get her ass plowed by Charlie Mac. The banker's signature comes in the form of a ton of black jizz all over her ass cheeks. Keith, without missing a beat, cleans up the mess and there's a comic book store out that exists because of interracial sex.
Be careful the next time your girlfriend says she's going shopping for your mother; it could be a clever ploy to get some anonymous black cock. Tinslee Reagan's loving, yet controlling, boyfriend is home and she's out "buying a gift." Bullshit. Tinslee's using time away from that cuckold-in-training to browse some interracial porn at an adult arcade. Tinslee's paranoid boyfriend, and for good reason as you'll see, blows up her phone as she explores this gloryhole. No sooner does she hang up when a black stranger tests Tinslee's loyalty to her man. Tinseel beings by licking his hands right before sucking down on as much of his black cock as her gullet can take. The phone, as you can guess, rings again while Tinslee's in the middle of cheating on her guy. However, this time after hanging up she gives the anonymous black cock a few minutes of shelter in her soaking wet snatch. Tinslee rides the wall without the aid of a condom-something she'd never let her man do. Tinslee's tight pussy helps that black stranger get to the brink of blowing his load, and he does so all over her face. The reality of the situation hits Tinslee Reagan and she leaves with a burden in her mind and a sorrow in her heart.
Casey Calvert and Prince Yahshua find themselves taking a leisurely stroll in the park. Casey, as Prince finds out, recently took a trip to a gloryhole and took an anonymous black cock in her ass. Prince realizes he has some time and quickly takes Casey back to his place. Prince begins the fun by playing with Casey's feet since, after all, she was barefoot in the park moments earlier. Prince works his magic on Casey Calvert's feet right before she sucks down on his huge black cock. Prince knows that white girl is down for anything especially after finding out she loves it in her ass. However, Prince Yahshua breaks her in slowly by pounding that white pussy.Casey's moans and screams while Prince penetrates that creamy fuck box. The time has now come for Casey's ass to welcome Prince's huge black cock. At one point you can see Casey's asshole begin to throb and pulsate from the intense friction that Prince brings to the table. The romantic rendezvous ends when Prince splashes Casey's face with his homemade protein shake.