Latest Updates from Dogfart (Page 81)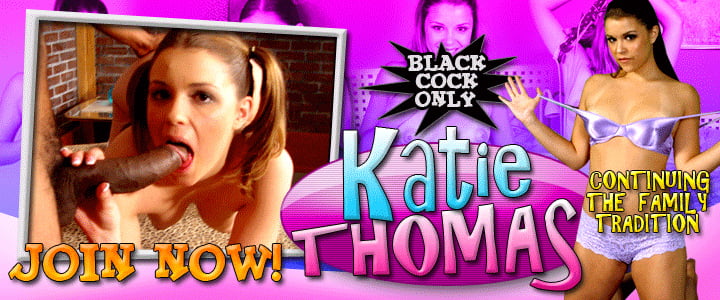 It's too beautiful of a day to stay inside and not recruit future black cock sluts. Justin Long and I went on the prowl for a poor unfortunate who has never had the good fortune of tasting black dong. We came across Makali Chanel, white eye-candy for sure, and convinced her that it was in her best interest to come back to our House Of Black Cock Worship. Watch as her eyes pop out of their sockets once she gets her first glimpse of the black rope Justin packs. A few minutes into the mayhem she morphed into the black cock slut I knew she could be right before my eyes! I had to show her that I'm the true queen of black cock by spreading my pink lips for black dick as well as stuffing it down my esophagus. Justin shot so much rope all over us that we knew he could have knocked us both up had he shot it right into our pink walls.
Deja Dare is one of my very bestest pals. That doesn't mean she's not a slut, or a whore, or a black cock slut...cause she's all those things. And more. Much more. She's a CHEATER. Look at her. Look at me! We are CHEATERS. We cheat on our boyfriends, and we do it with Black Men. My God. Why don't they break up with us? And Deja? Well, she's like an Amazon Goddess, and she's an expert when it comes to Big and Black. Like me. Speaking of big and black, check out BOZ The Animal. What's that, about 12, 13 inches? It's so big and long he can stick it into a white girl's pussy and lick that pussy at the same time. Talk about pleasure! Shit, a white boy and his 5 incher could take all the Yoga classes in the world and never do what BOZ does! HAHAHAHAHAHAH. You pathetic white boy. Jack your dinky to this. MWAH!!!!!!! XOXO - Ruthie.
Hi you little skinny pin-dick white boys! Meet my friend Katja Kassin. She's sick of going to clubs and meeting white boys and taking them home only to find out they have tiny cocks. She's now, like me, exclusive to the black cock and she wants a black baby too. Today we share Jason's huge black cock ...it's definitely big enough for both of us!