Latest Updates from Dogfart (Page 79)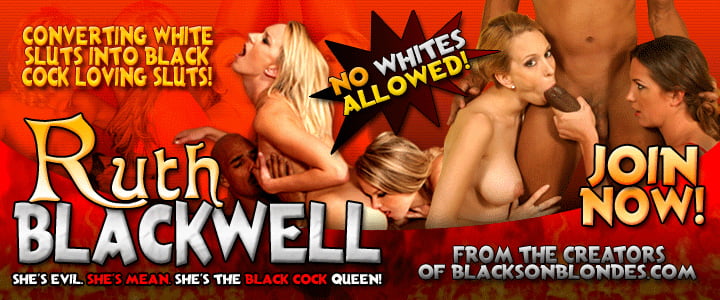 Everyone say HI to the Leader of the Whore Parade - Cindy Sterling. Cindy. What a whore. A slut. A floozie. A jezebel. All of the above. Cindy Slut! She comes over to my pad on a Friday night to see what's up...and I show her what up: 9 inches of black meat! Did I mention she shows up in her street clothes, and I make her go slut herself up for The Black Man? Did I mention she gets converted today? Did I mention she cleans my asshole with her tounge? Did I mention her late night snack of The Black Man's Cream? You're going to love this update as much as I loved making it. MWAH!!! XOXO - Ruthie.
Well guys, judging from your e-mails, you loved me taking on black cock and pussy at the same time soooo much I'm back for more. This time, it's with my main-most-niggah LT and one of his lady friends, Beauty. This scene turned crazy! After starting with LT, he asked me if I liked black pussy as much as cock, and I admitted that I did: enter Beauty! Whew. She immediately backed her niggah ass into my face so I could lick it clean...and lick it I did. In more than one position. C-L-E-A-N. I also cleaned LT's cock numerous times, as seen in this week's update. I needed some more practice after the black cock cleaning I did with Skyy and Jamal. So clean clean clean I did! But we saved the best part for last: LT shoots a load as big as his 9 1/2" cock, and *shoot* it did! 6 or 8 healthy ropes are launced in what could easily be the most drenched I've ever been in black seed! Enjoy!!! XOXOX -- Spring.
Take a good look at Cherish Lay. She has the face of an angel who has never gotten black meat deep inside her. The only cock she's used to are miniscule white peckers that barely keep hard and pop within seconds. I had Justin Long show her just what she's been missing. We tore into her within seconds of our meeting. She was down on her knees sucking and worshipping the mighty black cock. Her pussy gaped to a size that it never was before. I showed her exactly what to do by sharing his 12 inches with her. We both took turns going all the way down his shaft and her face was the perfect target for the remnants of an interracial sex spectacular.