Latest Updates from Dogfart (Page 72)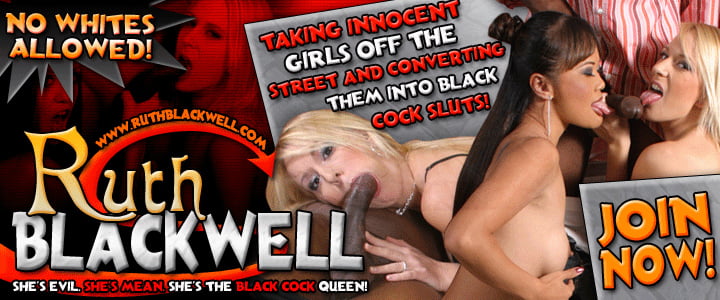 I was walking down the street (with one of many black guys I keep around) when we stumbled across Gia Gold. This little white tart was in need of something and that something turned out to be a fat thug cock. My man's big rod went past her tonsils and deep into her belly. Not to be outdone I swallowed his dark meat as if my life depended on it. She squirmed the moment the big black dick invaded her tiny hole but I could tell those were screams of pure enjoyment. Just watch as both our pussies get stretched with a gigantic tool that would never and could never be found on some pathetic white boy! Gia Gold now only participants in interracial sex and that means my job is complete.
6 months pregnant. Wow! I am RIPE with a chocolate bun & my tits are fucking huge! They're all milked-up. They're so big I feel them growing every day. They're filling full of milk. I bet you'd like it if I squirted some of that milk in your mouth. My pussy's all swollen and pregnant. I'm ready to get fucked. Thankfully my boy Byron is here to service me! He fucks me doggy today cuz pussy is getting SO tight that I can't take it laying down anymore.
I was walking with my favorite black cocksmen today, Jean, when we came across a white girl who had a worried look on her face. We found out that her husband was running late picking her up. I decided to kill some time by trying to convert another white girl to black cock so we took her back to our place for some diabolic deeds. She was reluctant at first but that soon disappeared when his black boa popped out and filled her mouth. I knew her husband couldn't pack anything close to this since he's white and failure is in his D.N.A. My black fuck pal tossed us around the room and Desire was loving every minute.....and inch of it. She morphed into a black cock slut right before our eyes as she helped spread my pussy to take in that third leg of his. We didn't want this party to end but she had to run home to get dinner ready for her husband. If only he knew that a few hours before she'd be dining on her first ever black dick!