Latest Updates from Dogfart (Page 55)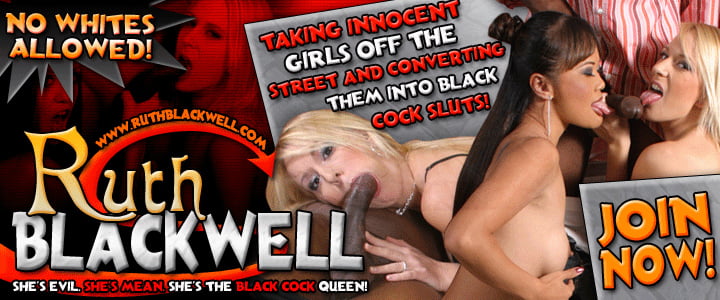 Happy New Year! I have made a resolution this year. No white weiners for me. I guess that's not too hard for me to do, cause I don't think I have had sex with a white guy in like 3 years. Yup, only dark meat for me. Wanna know why? It's longer, wider and just tastes better than white guys pee pee's. Plus it feels sooooo good. No wonder all my white friends are starting to date the brothers. You know what? I just changed my New Year's resolution. It will now be to convert as many of my white girl friends to become black cock sluts. Just like me!
John E. Depth is another one of my black stallions. He's packing about a foot of cock underneath those pants of his. Today we spent a nice afternoon outdoors when this petite young blonde came strutting her stuff nearby. She didn't even take a glance at my fucktoy so that told me right away that she doesn't involve herself in black cock activities on a regular basis. We quickly took her in and she couldn't resist the temptation to see how much John E. is packing. Once she got a glimpse of his third leg she got soaking wet and took him in her mouth and pussy. She confided in me that she never thought she'd fuck a black guy since it's a no-no where she's from. Michelle took a sweet load in the face and I know she'll be back for more very soon
Some ask if the carpet matches the drapes. Others call it "The Fire Down Below". I'll call her dumb whore. Or stoopid slut. Cause that's what she is! She even calls herself a slut! HAHA. Vixen. She's from the Midwest. Minnesota, to be exact. Minneapolis, to be exact. Techincally, Saint Anthony Village, to be exact! That's why her skin's so milky white and pale! Like mine! Cause we're both Minnesota Black Cock Sluts! I didn't even really have to convert Vixen. She was all over Jason Brown's black monster dick. I mean she loved it! I dunno what she loved more...his huge dick, or licking his giant wad of cum all over my ass after he blasted it good! I'm sure you're gonna love it, too! XOXO - Ruthie.