Latest Updates from Dogfart (Page 42)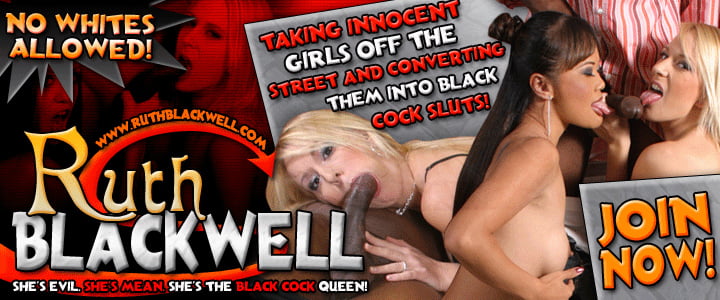 As soon as Candice Dare utters, " It's over for the white boys", we find out the mentality of this black cock slut. Candice's boyfriend is at the home they share, but her need to get double stuffed by black dick. Moe's place isn't available.....but he knows of a public restroom where he and Charlie Mac can plug all her holes. The filthy blonde agrees to get dirty in a restroom where no mop has ever hit the floors. We find Candice going back and forth on Charlie and Moe like the good little whore she grew up to be. It's safe money to bet that her boyfriend has no idea that the love of his life is getting the Dogfart treatment in a vile spot. Nevertheless, Candice's holes are for the taking of the black man. That ass and pussy get slammed by hefty helpings of black meat. The cheating bitch eventually returns to her boyfriend.....but with her holes rendered completely useless for his little white cock.
Abbey's not going to be satisfied in her quest for random black cock if her cuckold isn't there to witness the mayhem. Last time you saw Abbey she was getting her rocks off by getting fucked in a public bathroom over at BlacksOnBlondes.com. The outcry for her return sees her dragging a pathetic excuse for a man into an adult bookstore for something out of the ordinary--a risky rendezvous with a nameless black cock. Abbey's cuckold watches as the busty blonde slobs the fat knob of a black pecker via the glory hole. The cuckold's heart skips a beat when a face goes along with the black cock poking its way into Abbey's mouth. The bull enters the booth where his only objective is the fuck Abbey into oblivion. The cuckold can only sit and watch as his woman's pussy is now being rendered useless to him for any possible future sexual acts. However, Abbey's past history of her love for the BLACK MAN has just about written off any future her and the cuckold may have. The only thing for certain is that the cuckold has to clean up the mess left on Abbey's ass via big black dick. Yet another update where we question where white folks went wrong.
The term "snow bunny" fits Jenna Ivory like a glove. The blonde vixen is the newest addition to a long list of white sluts whose duty it is to serve the BLACK MAN. We find Jenna outside where she's very vocal about the dirty things she's about to do. It's not too long before about a dozen black guys make her acquaintance by feeling her up before round 2. Jenna's mouth works the line-up of black men right before she's bent over and the pussy is for the taking. A train of black men ram their way into her pussy-which guarantees that the rain of black jizz will be thick and plentiful. And of course it is.