Latest Updates from Dogfart (Page 38)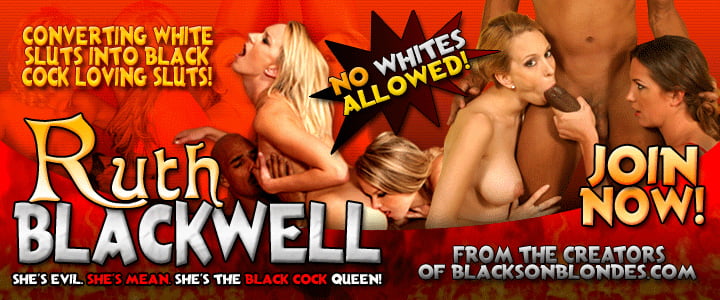 Vyxen Steel is from the Great White North, and, as a result, hasn't had much interaction with black guys. Fast forward to her arrival to the U.S.A and we find her with Rico Strong and Jon Jon as they take a leisurely stroll in the park. She drops a bombshell in the form of telling them that she's never taken a black cock in the ass--nor has she taken two black guys at once. Why not kill two birds with one stone? The two veteran swordsmen take her back to the crib where they give her booty hole a proper Dogfart introduction. The buxom blond knows her way around black cock, and it's evident when she sucks them both down with vigor. Vyxen's enormous tits shake and bounce as her first interracial threesome-with ANAL- is now underway. The Canadian import 's pussy erupts all over the place, so put your goggles on before watching this stellar encounter. Vyxen sucks her sphincter juice directly off the black cock that was just invading her back side. Vyxen's Dogfart debut ends when both sets of black balls have been properly drained.
There's a certain potion of the white male population that encourage their women to go score some big, black dick. Cindy Lou's boyfriend is one of those guys/cuckolds. Cindy and her guy have just gone through one of their bigger fights when she goes the route of revenge after discovering his cheating ways. Her man gets the vile details of her trip to a glory hole only AFTER she's sucked and fucked a random black stranger. In fact, she's on the phone with the cheater as she's stroking off that strange black cock. Revenge is a dish best served cold.....but in this case it's in the form of a messy facial courtesy of a lucky black individual. You can bet that Cindy's boyfriend will have her bags packed once she walks in through their front door.
Cindy Lou has a few scenes under her belt, and we're already tossing her nearly a dozen black cocks for her enjoyment. We here at Dogfart are giving Cindy a budget for her own DVD. The casting call brings in a "who's who" of black male talent. Jon Jon, Charlie Mac and many others came in for an interview with Cindy hoping to get to perform with her. With so many choices what was Cindy to do? Being the southern white slut that she is, Cindy had them all fuck her with the contract going to her favorite one of the bunch. And we were soon off to the races. Cindy had them all line up as she went down the line to suck them all to near completion. It seems as if she only got her feet wet with gloryhole.com, and now she takes it up a notch with her first ever interracial gang bang. The whore from the Bible belt isn't satisfied with merely blowing about twelve feet of big , black cock. No. Cindy wanted the full Dogfart experience and she got it when her pussy was pounded, slammed and jammed with every black cock in the house. Cindy picked Moe after her face was covered by his jizz and his black brothers in arms.