Latest Updates from Dogfart (Page 134)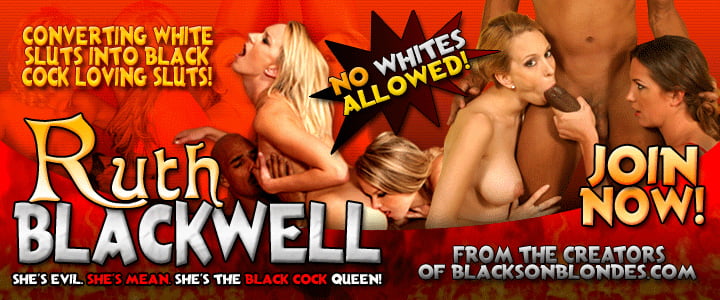 She looks like the girl who should be babysitting. She looks like the girl who should be hitting the books real hard to get into a good school and not hanging around this dangerous place. Makenzie Sweet is a young fuck tart whose bathroom behaviour is very unlady like. She's about to go tinkle when she's confronted by a stranger's white cock. Her only experiences with white dick have been limited to watching it online when her parents are away. However, it looks as if today she's going to sink her mouth onto her first white flesh-monster but not before flashing her goods to you. She doesn't waste any more time and her first white cock is soon going past her tonsils and into her stomach. She's not leaving until her black pussy gets a filling of white boy dick. Watch as she arches her back to allow a white cock easier access to her pink fuckhole. She rides this lucky pecker until it can't hold back any longer. After all, you can't blame the guy.
Amix Amillion was built to fuck. Her hourglass body has only known black cock but in a few minutes she's about to lose her white cock virginity. She has to be careful that the club bouncers don't see her inspecting an anonymous white dick which is attached to a guy who'se living on the razor's edge. She's not to sure about sucking this white boy's dick but she's about to give it full clearance to her throat. She nearly throws up as she forces herself to get facefucked by that fat, white cock. Her set is about to end which leaves just enough time to slide that pulsating white dick into her soaking wet black cunt. Amix Amillion makes a great target for a shower of white jizz that she worked very hard for.
If you listen close enough you can hear Janea's heart racing a million miles a minute. She's in the wrong side of town and in a btharoom that isn't fit for human use. It's too bad for her that her bladder is about to erupt so she doesn't have much of a choice as to where to relieve herself. The first drop of pee is about to drip off her black pussy lips when a monster white cock comes within inches of her face. She knew coming inside was a bad idea and is about to make a bad situation turn good by calling out the anonymous white cock on its bluff. She takes little time in stretching her mouth open to house her new white fucktoy as she rubs her clit like a maniac. The cracker dick was about to dump its DNA all over the place but not before Janea got a few minutes of pole riding in. Her little sneakers were the only thing keeping her feet clean in this vile place as she backed her ass up on the gloryhole wall for the ride of her life. The jizz was spilled and she was happy to make sure a drop wasn't wasted.