Latest Updates from Dogfart (Page 113)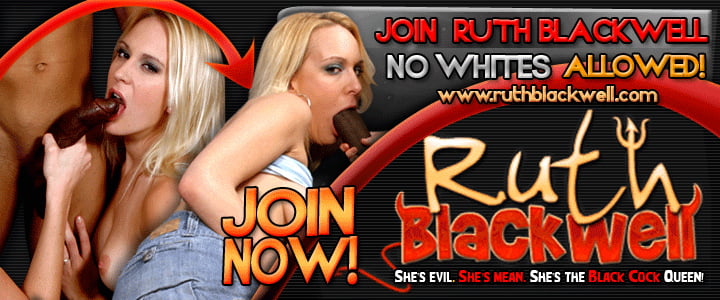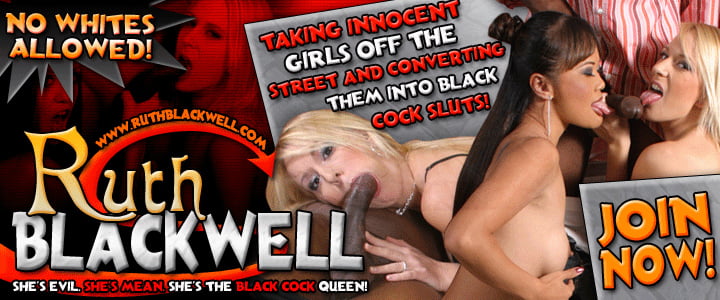 We've started off 2011 with a bang........a gangbang, that is! Katie Kox is married to a white guy whose small cock is made up with a huge bank account. The husband is out of town on business and left his bra-busting little woman in charge of 5 blue collar thugs. Katie walks in as the hired hands are shooting the breeze and she throws a shit fit once they threaten to walk out on the job. Katie turns lemons into lemonade by fucking this gang of black bulls so that the money keeps rolling in. Like a pack of wild dogs they rip Katie's clothing off her milky, white frame and take turns ravaging her mouth with their big black cocks. Katie's mouth slides down each black shaft while not worrying that their hours will be going into overtime. The union of black laborers take turns slamming her from behind while her hands and mouth leave no black cock unattended. The self-lubrication oozing from her neglected white slit soon gets 2 black cocks jammed inside. Katie's airbags swing in every possible direction while her creamy, white pussy gets a double assault from black cock. The interracial porn on her husband's business laptop doesn't compare to the pure hell Katie's body is going through and all for the love of her limp husband. The time to punch out arrives when all 5 black meat slingers shoot their grits on her face, in her snatch, on those mountains of tits and any other dry spot on her body.
There's something to be said for the black cock whores that Europe produces. Nika Noire is from the Ukraine and the lack of plentiful black bulls in her homeland finds her in the good ol' U.S.A. Nika's baby blue eyes, 34DD tits, curvy ass and wet pussy are seemingly all she needs to attract the attention on Shane Diesel and Jack Napier. However, it's her willingness to dress like a complete street walker and ability to dine on 2 monsters of black cock that really make her appealing. First, Nika's thick Ukrainian accent spews out some of the filthiest language, showing she's watched some interracial porn in her native land. The festivities really kick off when Shane and Jack take turns transforming her mouth into a temporary garage for their massive beef sticks. Things wouldn't be right unless both black bombers slapped and fucked the mountains on Nika's chest; it looked as if 2 Hindenburgs flew between the Rockies .The pussy soaking in its own juices soon finds itself taking in a black cock until her clit is rubbing against testicles the shape of a water balloon.It's total mayhem as both thugs have their way with Nika and she submits to the power of their black cocks. At first she could only take in the tips of their black cocks since her sexual resume is filled with white mutants. Thankfully, the creamier her pussy got the more she could take in without being split in half. Nika Noire went back to the Ukraine with a sore body and a passport photo that showed her face drenched in black nut butter.
Mona Lee's found herself in the mean streets of L.A. You can see the desperation on her face to leave this wicked city. Mona Lee's long legs bring her to the corner where she comes across 2 black guys loitering. This chance meeting gives Jon Jon and Flash Brown the opportunity to be good Samaritans and get their fuck on at the same time. At the pad, Mona Lee forgets where she was initially going and turns her attention to her new black friends. The reason for their helping hands comes to light when Mona's surrounded by 2 black cocks that are as big and long as the plane that flew her in from the Czech Republic. Both black meat slingers take turns having Mona suck down their big black schlongs as her tits gets massaged by rough hands. Mona nearly passes out from dehydration as every inch of black cock aimed at her is now soaked from her spit. Jon Jon and Flash toss her all over the place as her pussy gets the highly sought black cock that Mona only dreamed about back home. One black cock leveled her snatch as another pumped away at her throat's inner lining. The size of those 2 blacks going in at opposite ends could only mean that they almost met at one point in Mona Lee's lean stomach. At this point both bulls were ready to deposit their DNA in or on her. However, Mona wanted to get double stuffed like the whores she's watch in the interracial porn movies in Europe. Mona's ass and pussy were up the the taking and her holes gaped wide enough to fit a billiard ball inside. Every inch of big black cock disappeared inside her walls and her knees trembled as a result. The double penetration friction only caused her to scream her lungs out from the orgasms she was chalking up. With a heart rate nearly off the charts Mona took a shot of hot, molten goo up her pussy and another shot that splattered her face. Mona Lee's didn't get the directions she needed but found 2 black fuck buddies who gave her a hand in exchange for tapping that ass.