Latest Updates from Dogfart (Page 112)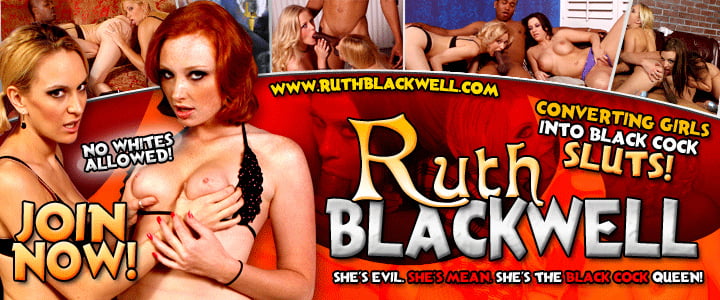 In my country, Czech Republic, we don't know what "cuckold" is. I do know what it means to be a black cock slut based on how I've been sucking and fucking black meat for the longest time. Lucky for me in America I can have a cuckold watch as I take in a black dick the size of a fire hydrant. Shane "Horse Cock" Diesel showed me how to humilate white cuckold showing me that Americans can be really mean. I let my white bitch kiss me a little bit and m leaopard bikini looked as good on him as it does me. I had to have that huge black dick down my throat since that's how good Euro Whores do it. I'f I sucked my cuckold's dick then I'd still have 99% of my mouth free. He did come in handy as her spread my pink lips to welcome that black rocket with balls as big as my cuckold's head. Clean up was easy because my cuckold and I share the same appetite for chunky black cum. He's so pathetic but looks real cute in my beachware.
My boyfriend's insecurity reached a new low when I caught him spying on Shane Diesel and I. After all, when you look as good as I do then you really can't blame the stupid fucker but it gave him no right to violate our privacy. He was hiding behind the couch as Shane and I were about to set off a chain of events which would lead to my white pussy getting ravaged. We caught him in the act and the punishment for his diabolical ways needed to be severe enough that it would guarantee he's never do it again. I made him drop his pants to reveal his um, shortcomings, and Shane and I were overcome with laughter instead of anger as we were moments before.I made my little white slave watch his first interracial sex encounter as Shane's big black dick stabbed my mouth until his balls touched the tip of my nose. If that wasn't enough then he took his meaty black dick and had his way with my birth canal. The entire time this was going on my boyfriend had this look of dread on his face while he was forced to wear the chastity device that I insisted he wear. His tiny dick in that device looked like a fly inside an aquarium. I couldn't laugh too long because my pussy was taking a beating from all angles and my screams shook the very walls of the home my boyfriend and I share. I had to reward my cuckold with something so I allowed him to dine on Shane's DNA after he sprayed my pussy with his black hose.
My old man and I took a stroll to the bad bad of the city. It's the kind of place where the Police don't even show up. Why were we there? My man took me to persuade some black guy to come back to our place, fuck, and fill me up with black jizz. I love my guy but he's seriously lacking in the meat department. His love for me knows no bounds so we hoped in the BMW and eventually hit the lottery with Rico Strong. Rico was hesitant when we told him about our fantasy and thought we were bullshitting him. The look in my eyes said otherwise and minutes later we were back at our love nest. I let my guy watch as I pulled down Rico's pants to unveil a black fire hose. My cuckold whipped out his puny pecker and started beating off when I had that enormous black dick shoved down my throat. It was like my boyfriend's cock, only 100 times bigger and it was actually hard! My lipstick was slowly running from my lips and onto his dick every time my face got closer to his pelvis. I knew I had a good thing coming when he bent me over, and slid inch after inch inside me until his warm balls were slapping my ass cheeks. I felt like I was getting stretched in half since this was my first time with a black cock.There were no possible stretches I could do for my pussy to be ready. I was in heaven each time his rock hard black dick took liberties with my aching white pussy. The icing on the cake was when my pathetic cuckold was jacking off as his girl was getting drilled into unconsciousness. We ended our day when Rico turned my pussy into his own personal jizz container. My guy, the sicko he is, ate whatever cum came oozing out from me. However, Rico shot me full of so much splooge that I'm sure a black baby is on its way.